The Deli: Raw Pet Food & Treats
Not sure where to start? Take our Raw Meal Box quiz to find what's right for your pet!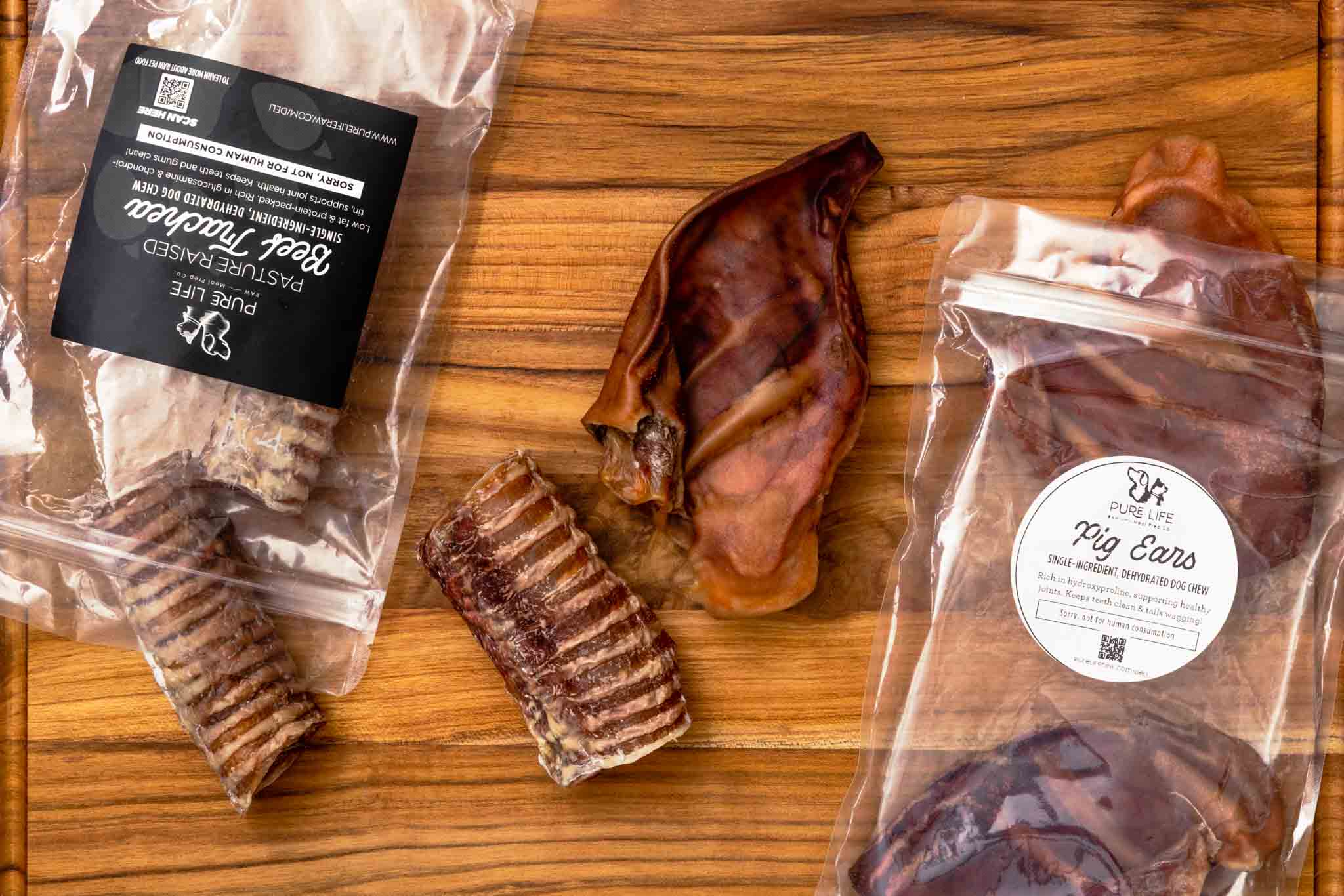 Raw Meals
-Allergy Friendly
-Nutrient Dense Blends
-Supports Healthy Gut Biome

Raw Meaty Bones
-Freshens Breath
-Provides Mental Stimulation
-Natural Collagen & Calcium Source
Dehydrated Treats
-Single-Ingredient
-Shelf Stable
-Rich in Antioxidants and Vitamins
Frequently Asked Questions
How much should I be feeding with a Raw Diet?
We recommend starting here to determine the best meal plan for your pet. Feeding portions depend on your pet's age, lifestyle, and body condition.
Where do you source from?
We partner with local farmers and distributors in California and pride ourselves on using meats, bones, and organs raised on pasture and grass-fed. We'll never subject these fresh ingredients to HPP or pasteurization.
Is Pure Life Raw made with human-grade ingredients?
We always source the best quality human-grade ingredients. Seriously, our pets eat better than us.
Do I need to add supplements?
Pure Life Raw includes muscle meat, raw meaty bones, liver, and another secreting organ (kidney or spleen). That's it! Variety is key to maintaining a balanced diet. We encourage feeding a minimum of four proteins, but the more the better! We offer up to seven protein sources making it easy to switch it up. Many pets show signs of allergy or intolerance to synthetic vitamin mixes typically added to commercial pet foods. This is why we'll never incorporate them into our blends. We are giving the power back to you as the pet parent to only add the extra supplements you know your pet can benefit from.
It's important you talk to your holistic veterinarian or a certified animal nutritionist to find out if any supplements could complement the Pure Life Raw diet based on your pet's unique diagnosis/situation. Some additions to consider for overall wellness would be whole raw fish, fur-on animal parts, probiotics, and turmeric paste.
What are raw meaty bones?
Dogs and Cats have a nutritional requirement for calcium. Raw edible bone provides this essential mineral in a raw diet. Raw Meaty Bones are all-natural, soft, pliable bones your pet can crunch, tear through and eat. Raw Meaty bones are also rich in phosphorus, amino acids, protein, essential fatty acids, fiber, enzymes, and antioxidants. They're great for pets with sensitive stomachs and food allergies as a single-ingredient treat. Our signature raw meal blends contain ground-up raw meaty bones mixed in.  Some examples include Chicken necks, feet, Pork riblets, and Duck wings.
You can hand-feed RMB using a paper towel to encourage slower eating if necessary. It is perfectly safe and healthy for your pet to enjoy appropriately sized, non-weight-bearing raw bones. In fact, feeding RMBs provides jaw exercise, mental stimulation, and natural teeth cleaning. For teething puppies and kittens, RMBs are a great alternative to furniture and shoes!
Unless your pet has an underlying condition that prevents them from being able to chew bones (missing/fractured teeth, gulper feeding style), whole raw meaty bones are an excellent addition for them regardless of their primary source of food. 
Why doesn't Pure Life Raw contain vegetables?
We follow the Prey Model Diet, which means we offer only what dogs and cats are designed to eat in the wild. Our pets are not biologically designed to digest raw vegetables, starches, or grains and for this reason we leave these out of our products.
If you feel your pet could benefit from vegetables, we recommend fermented options like this. Which mimics the way your dog/cat would naturally intake plant matter - predigested. 
Will my pet go through detox?
When switching your pet over to a more species-appropriate raw diet, your pet will start detoxification from their previous diet. Most pets thrive and see immediate improvement with the switch to raw. Some dogs may have worsening of their symptoms before it gets better as their body expels the built-up toxins. The most important thing is to stay consistent, and possibly consider a digestive enzyme or natural detox remedy to help the process along.
When does it ship and how fast does it arrive?
We make everything fresh to order. Our turnaround times are listed below. 
Orders placed Mon-Thursday ship the second Monday following online order placement. 
Orders placed Fri-Sun ship the third Monday following online order placement.
It takes 1-3 days to arrive once shipped depending on your location.